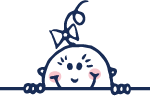 It helps to know what to do in any of these situations.
Teething
Signs: Swollen gums; fussiness and crying; a slight temperature (less than 101 F), gnawing on hard things; lots of drool; changes in eating or sleeping patterns
Pain Relief: Let them chew on a cold pacifier, spoon, washcloth or refrigerated teething toy or try massaging their gums with a clean finger.
Brushing
Start brushing when your baby gets their first tooth.
0-2 yrs: Use a training toothbursh or one with soft bristles and a pea-sized amount of non-flouride toothpaste. Brush at least 1x a day.
2-4 yrs: Use soft bristle toothbrush and a pea-sized amount of flouride toothpaste. Brush 2 min for 2x a day and floss at least 1x a day.
Emergencies
Chip or Knock Out a Tooth: Rinse the area with warm water. Place cold compresses over the face in the area of the injury. Locate and save any broken tooth fragments. See Dr. Rula immediately.
Cut or Bitten Tongue, Lip or Cheek: Apply ice. If there is bleeding that does not stop after 15 minutes of gentle pressure with a clean gauze, take the child to a hospital emergency room.