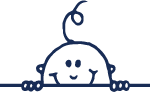 Not sure what's going on with your little one?  No worries! Below is some advice we find ourselves sharing often that we hope may be useful. Of course, you are always welcome to contact us with further questions via our office phone at 864-442-6770.
Teething
If your child is fussy, crying, and has swollen gums, he or she may be teething. This is often accompanied with a slight temperature (less than 101 F), drooling, and gnawing, as well as changes in eating or sleeping patterns.
For some pain relief, let your child chew on a cold pacifier, spoon, washcloth or refrigerated teething toy. You can also try massaging their gums with a clean finger.
Brushing
Coming Soon.
Is it an Emergency?
Chipped or broken tooth: Rinse the area with warm water. Place cold compresses over the face in the area of the injury. Locate and save any broken tooth fragments. See Dr. Rula immediately.
Knocked out tooth: Find the tooth and handle by the top (crown), not the root. You may rinse the tooth, but DON'T clean or handle unnecessarily. Try to reinsert it into its socket. Have the child hold the tooth in place by biting on a clean gauze or cloth. If you can't reinsert the tooth, transport it in a cup of milk or water. Call Dr. Rula immediately. Time is critical in saving the tooth.
Cut or bitten tongue, lip or cheek: Apply ice. If there is bleeding that does not stop after 15 minutes of gentle pressure with a clean gauze, take the child to a hospital emergency room.
Toothache: Clean the area around the sore tooth thoroughly. Rinse with warm salt water and use floss to dislodge trapped food. DON'T place aspirin on the gum or on the aching tooth. If face is swollen, apply a cold compress. Take acetaminophen or ibuprofen for pain and call Dr. Rula.
Bleeding after losing baby tooth: Fold and pack a clean gauze or cloth over the bleeding area. Have the child bite down on it with pressure for 15 minutes. Repeat once. If bleeding persists, call Dr. Rula.